Yelapa, a great place to go native
All photos are copyright by Evan Ravitz and for sale. Nonprofit use of these small images is free if credit is given. Email: evan (at) vote.org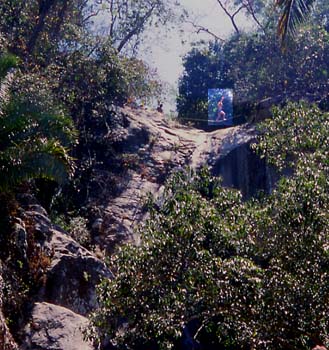 I had an unusual position in Yelapa. I made a living by "tight"-rope-walking above the town waterfall, which was already a tourist attraction. A young lady passed the hat at the restaurant at the bottom, which also fed us.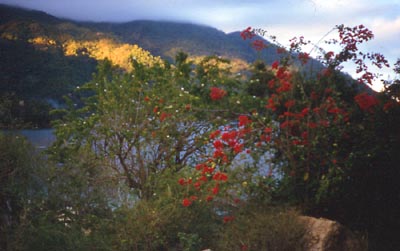 I'd arrived penniless (thanks to Boulder banning my tightrope show from 1982-4) , so the hotel on the beach let me live free in a "palapa" (palm-frond hut) some 200 stone steps above the hotel, abandoned because the water wouldn't go that high. This is the view from my front door
It's easy to see why the town's best-selling T-shirt read "I'd rather have a Palapa in Yelapa than a Condo in Redondo."
Our favorite hotel worker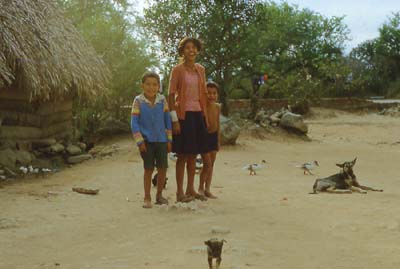 Yelapa is pretty close to paradise.
Laundry took awhile, so why not socialize?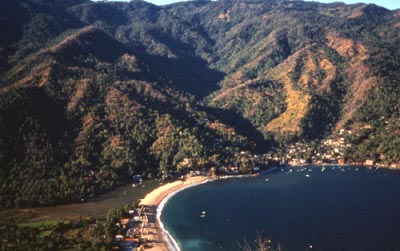 This aerial shows the restaurants & inns on the beach, with the town and fishing boats behind. There are no roads here, although junior cyclists are tearing up the new stone paths.
Xochi was the star of the beach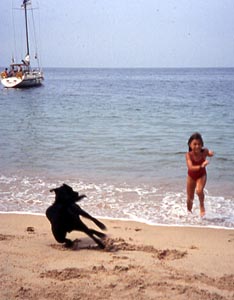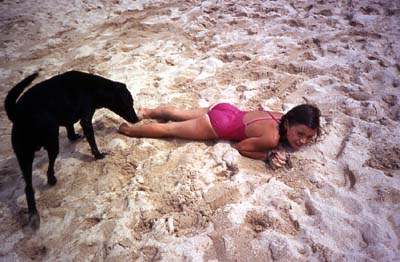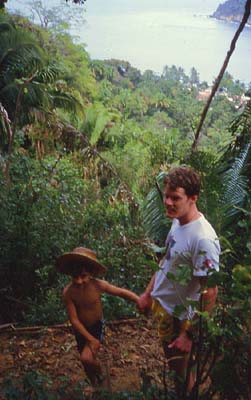 Some folks I met on the ferry from Puerto Vallarta -and our scene-stealing new guide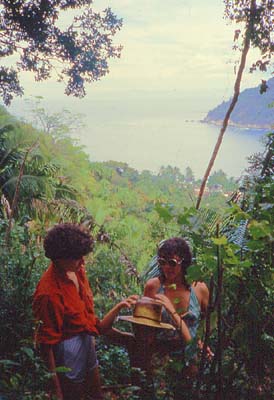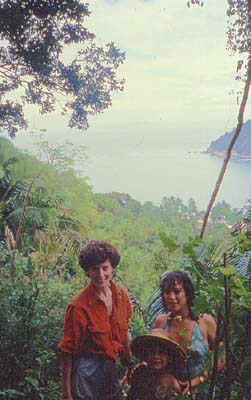 I wasn't the only one working at the Restaurante Cascada. These native coin divers also provided lunch hour entertainment.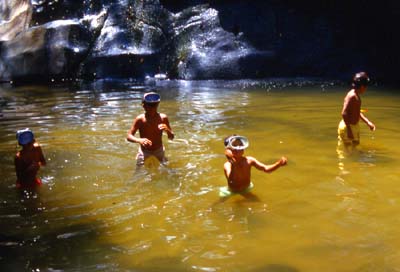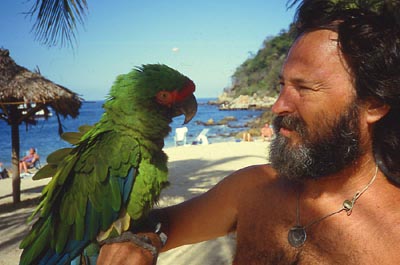 "Pinche" John Echeverria
I'm relaxing between shows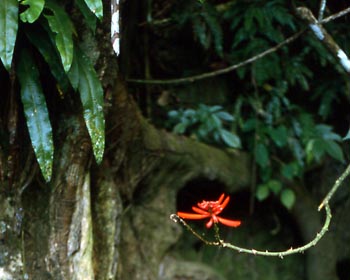 Even in the dry season the jungle bloomed
Josie the artist, from Calgary, Alberta.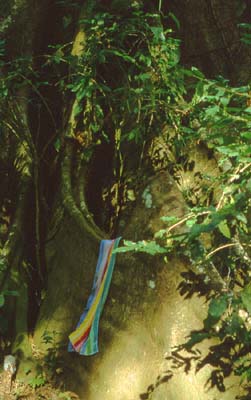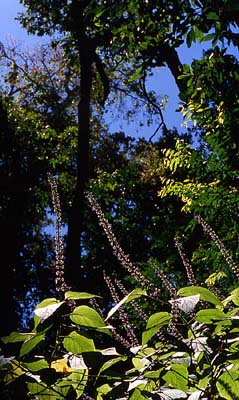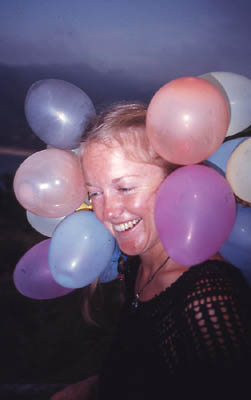 We had great potluck parties; this one in costume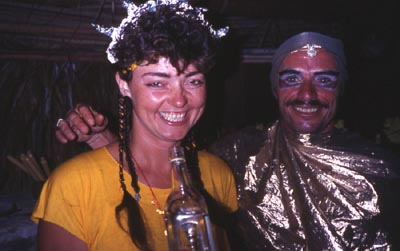 This woman was a smoke-jumper from Alaska. Nobody messed with her.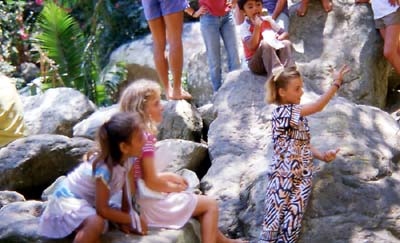 Tabatha's 6th birthday party on the beach
My second year (1986) I lived in a great house on the lagoon where the Rio Yelapa joined the Pacific. Several of us foreigners lived there with Santiago, the town Brujo or shaman, and his family.
My lovely assistant from Montreal, who passed the hat below the waterfall. Here we're starting a strenuous 9-mile hike to Chacala some 2000' above Yelapa.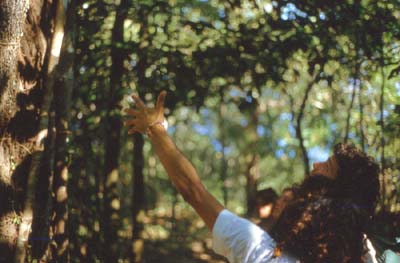 Christopher from Venezuela was our guide. He and I walked there barefoot,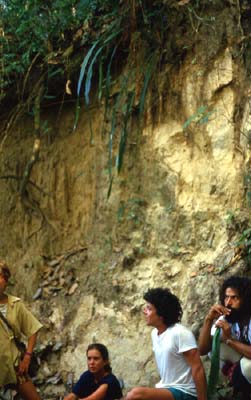 After showing us this spring, and finding us a house which hosted us for the night, he returned barefoot in the dark down the winding trail. He later showed us how he bunched together white flowers which he pointed at the trail to reflect extra starlight! He has travelled all over the Americas with just a little bag with money, passport and seeds which he distributes to farmers. He made bamboo flutes for a living.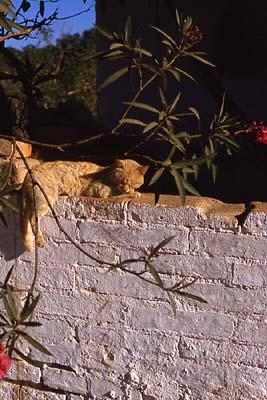 Life was pretty sleepy in Chacala.
The local priest asked me to play Jesus for Holy Week. Here' I'm "riding into Jerusalem on an ass."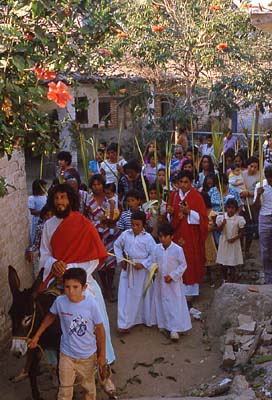 Here I'm walking the 14 Stations of the Cross, not really comprehending the priest's words with my poor Spanish. I did establish first that there would be no nails! I was typecast: 33, Jewish, with long hair and a beard, and ready to die at my first Mass.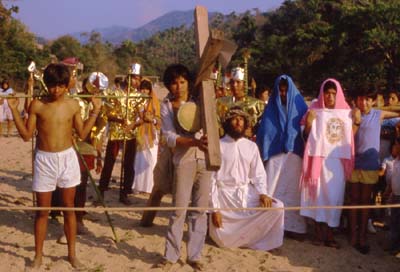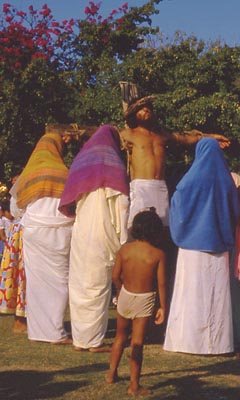 Here I'm comfortably crucified, standing on a little shelf. The priest rewarded me and a friend with a ride to 2 more primitive towns he served further away on the coast.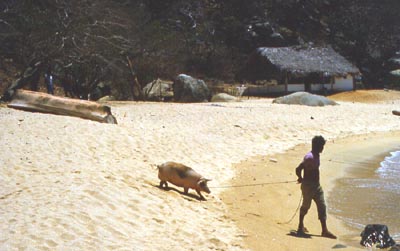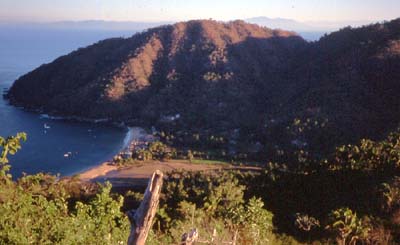 In 1999 I returned for a visit, afraid that success would have since spoiled Yelapa. Thanks to a battle between the two local political parties (called the Reds and Greens, no relation to Communists or environmentalists) which had degenerated to fist-fights, tourism had plummeted for much of the 13 years I was gone and was just coming back. So I can still recommend Yelapa. This is taken from near where paragliders take off for the beach.
You can view, search and comment on my and others' photos at Flickr, the best new thing on the internet:
Don't forget to visit the fabled Vote.org!