Boulder, where the Great Divide comes closest to the Great Plains.
All photos are copyright by Evan Ravitz and for sale. Nonprofit use of these small images is free if credit is given. Email: evan (at) vote.org
Boulder has been called "27 square miles surrounded by reality." You can skip reality and go straight to photos of our famous Halloween Mall Crawl.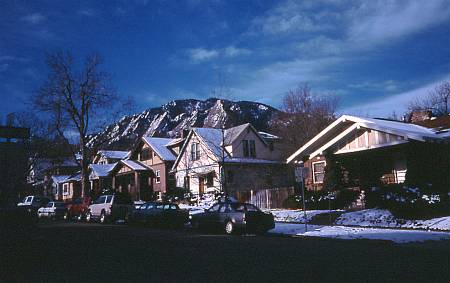 The view from the corner by my apartment, with the Flatirons and Green Mtn. in back.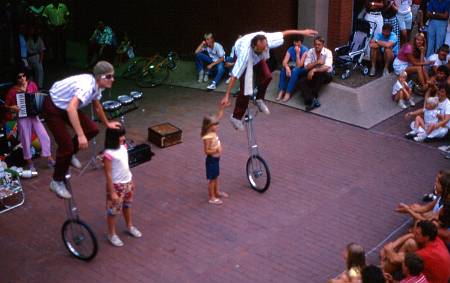 On the Pearl Street Mall with Boulder's own International Juggling Association champions Airjazz: Peter Davidson & John Held leaning on the kids; Kezia Tanenbaum playing accordion.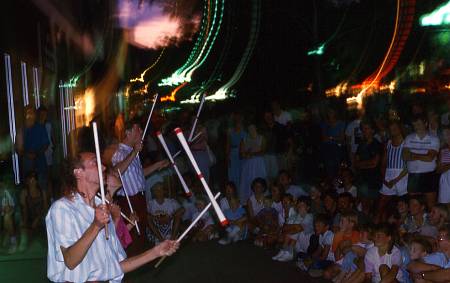 All 3 doing the Chinese Devil Sticks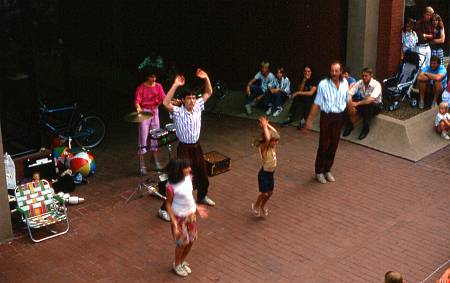 Leading the victim/volunteers in calisthenics.
I performed on the Mall from 1978-1998 as Evan from Heaven -except for 1982-4 when the City Council banned my and some other shows, representing a handful of business owners who thought the free entertainment was bad for business, and ignoring a petition of 4500 fans I presented. In 1985, with business down, they relented and let us back, though it took another decade to obtain the freedoms we now enjoy there. Greed finally trumped prejudice.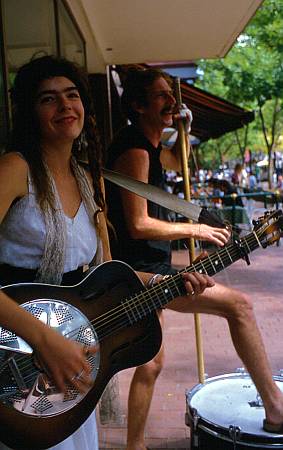 Some very endearing visiting musicians.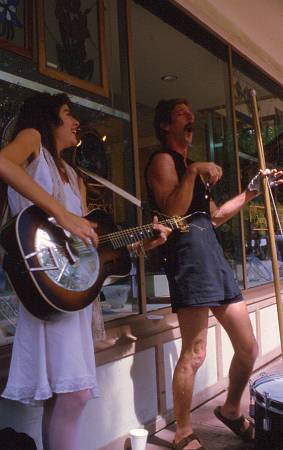 Magician Mark Marley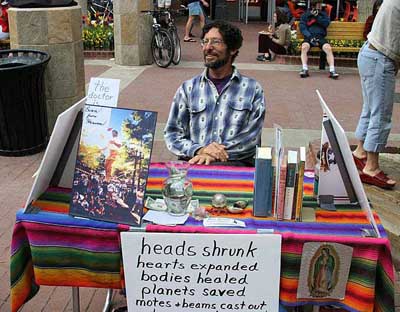 My new gig on the Mall. The other signs say "Psychiatry: The doctor is IN." -thanks to Lucy in the Peanuts comic. I've helped people with relationships, livelihood and health.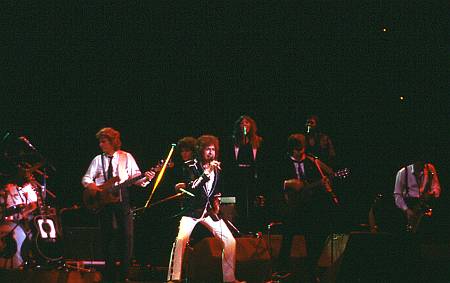 Bob Dylan playing in Denver, 1979.
In 1980 I lived at 541 Arapahoe, across the street from this the home of Boulder's first couple of cycling, Davis Phinney and Connie Carpenter.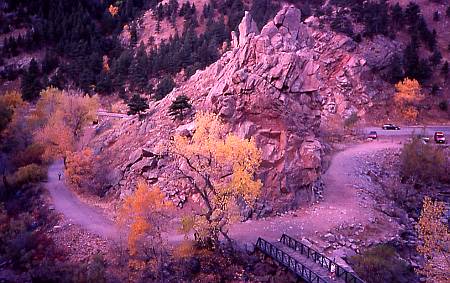 The bike trail up Boulder Canyon
Royal Arch with dancers.
Dancers Phil Belknap and Debbie with icicles. Phil also was a tightrope artist on the Pearl Street Mall.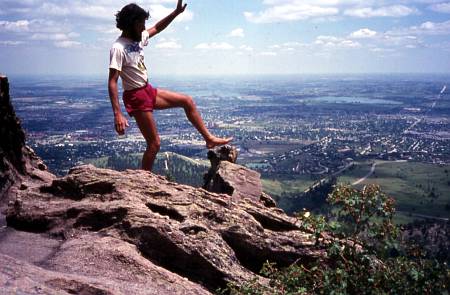 Yours truly carefully stepping onto a rock -which is actually 75 feet away.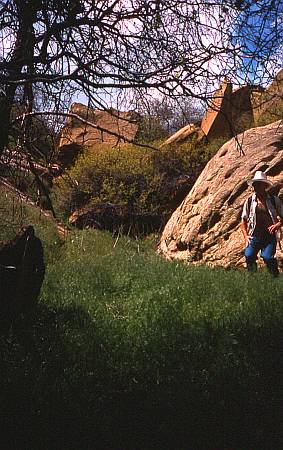 My friend Carl Lehrburger prospecting for petroglyphs at White Rocks natural area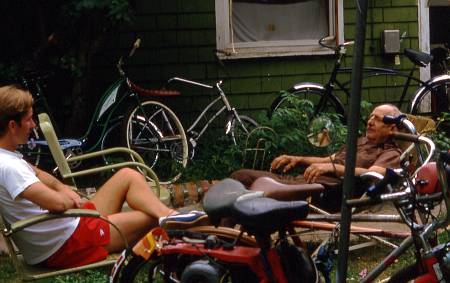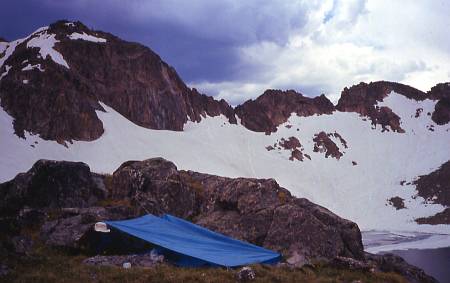 My "crow's nest" campsite at 12,150' with Lake Dorothy below right, just above Arapahoe Pass.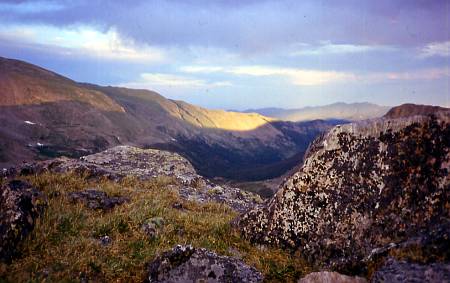 The view East from the crow's nest.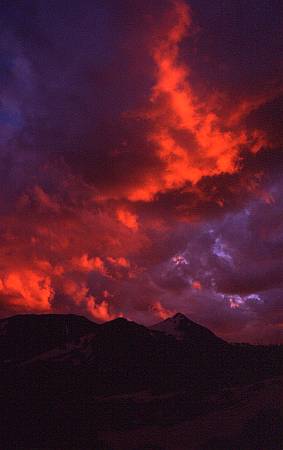 This was just the beginning of the most stupendous sunset I've ever seen, and I ran out of film!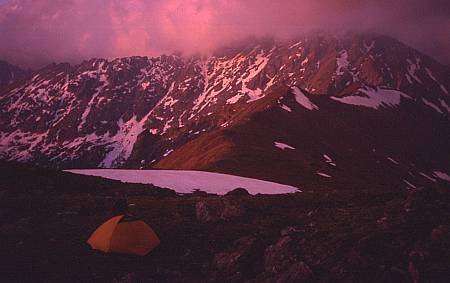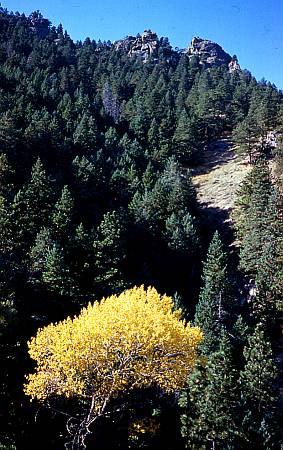 Above is Saddle Rock, half-way up Green Mountain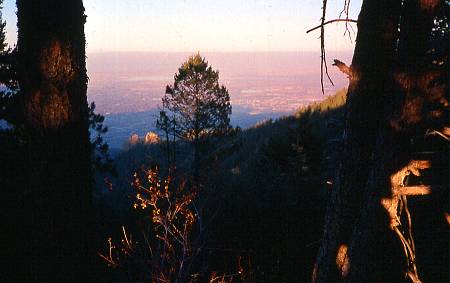 Lit up in the middle distance below is Saddle Rock.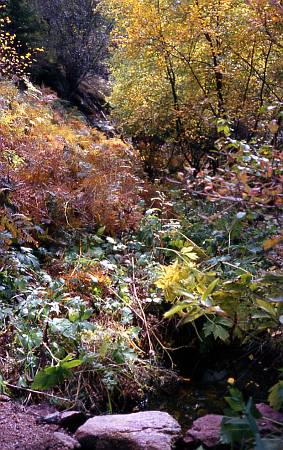 Gregory Canyon, between Green Mountain and Flagstaff Mountain.
The Kinetics Conveyance Contest -an amphibious assault on reality, at the Boulder Reservoir.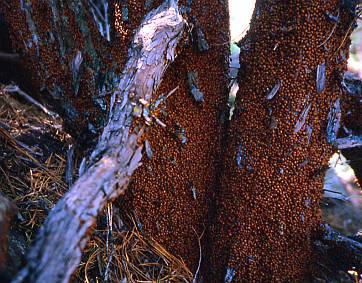 Lady bugs swarming on top of Green Mountain.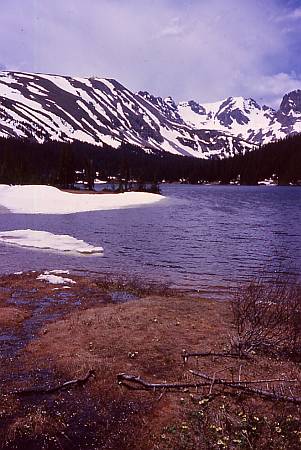 Long Lake below the Continental Divide's Indian Peaks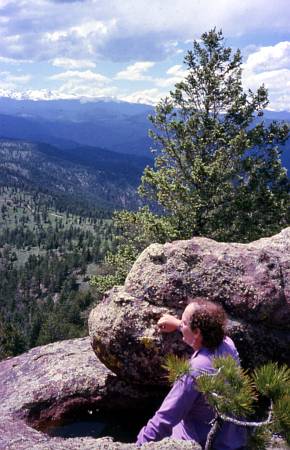 My friend Mark from Guatemala, where I used to live.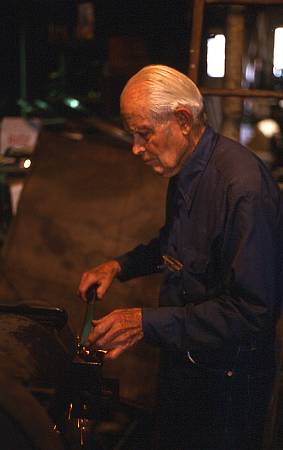 Merle Reynolds, proprietor of the Standard Machine Shop on Walnut. Merle worked on everything from steam trains to the space shuttle. Here he's dulling the machetes I juggle. He charged me a pittance. A 7th Day Adventist who never smoked or drank, he worked until just months before his death at 94. Thanks again and rest in peace, Merle.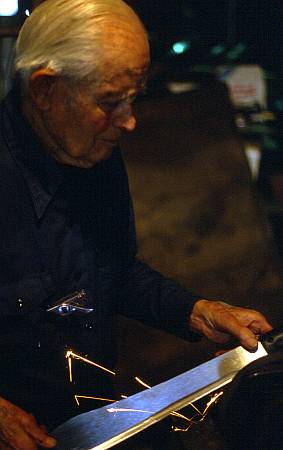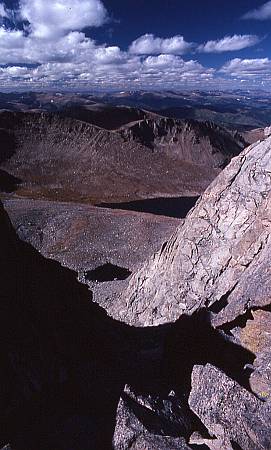 From Mt. Evans West of Denver. Summit Lake in the background.
Not sure where this is from, but South Arapahoe Peak is the pointy one on the right.
On CU's Norlin Library: "Who knows only his own generation remains always a child." Regents, take heed!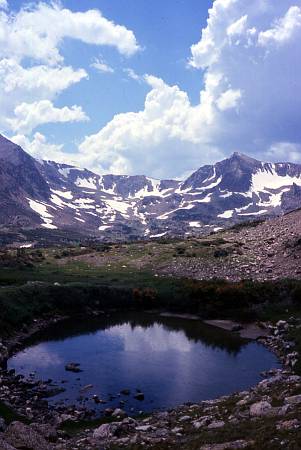 Just West of town a huge willow grows from where an irrigation ditch leak springs from an otherwise dry hill, forming a little oasis.
Deer love the cool under the tree.
I lived here briefly twice during 1982-4 when the City Council banned my tightrope show and I went on the Rennaissance Faire circuit.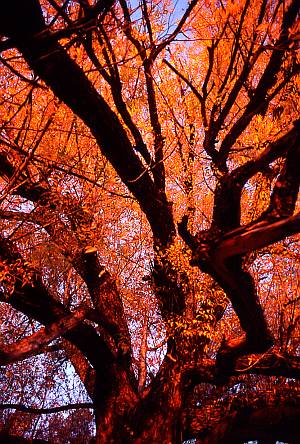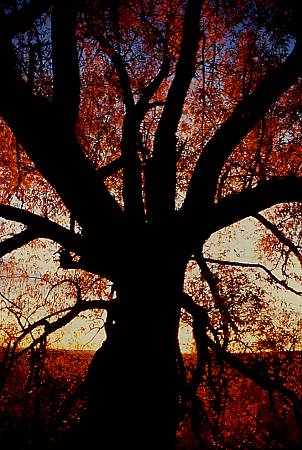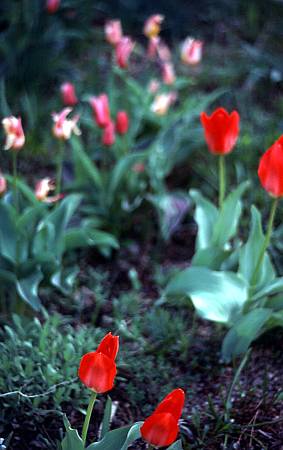 Ah, the days before the safety-first people made workers wear hardhats and full clothing.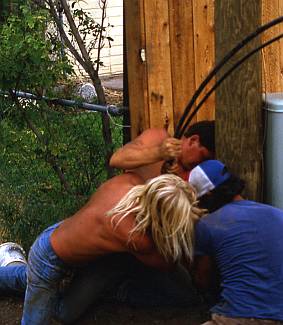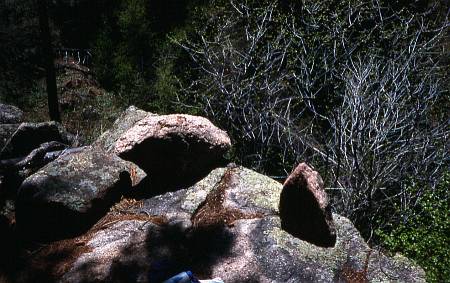 The rock I do yoga on, halfway up Green Mountain.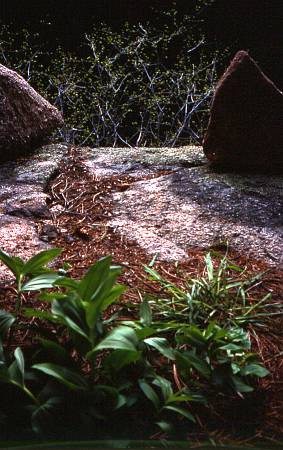 The plant in the foreground is false solomon's seal, with delicious edible berries and tubers.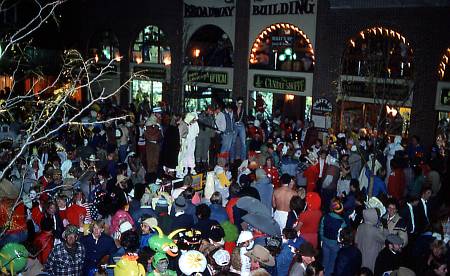 Boulder's Halloween Mall Crawl was legendary from about 1986 to around 1990 when it started to turn into a standoff with police; it became more of a spectator sport than a participatory one, and the City spent a lot of money ending it, by about 1994.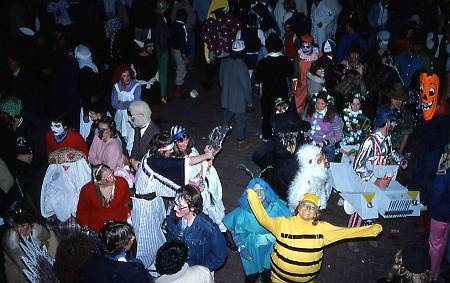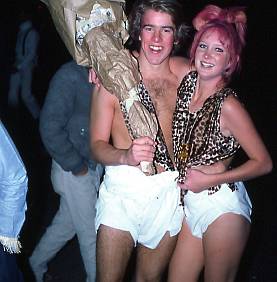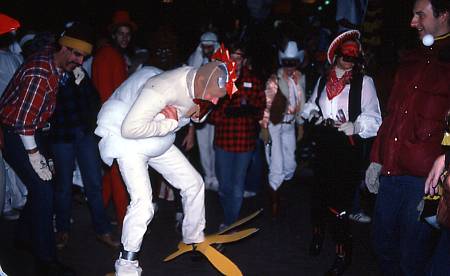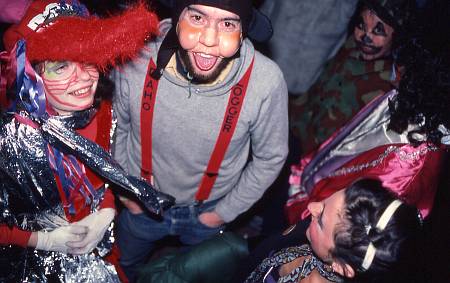 Massage therapist Pam Thayer at left. Her business card reads "It's nice to be kneaded."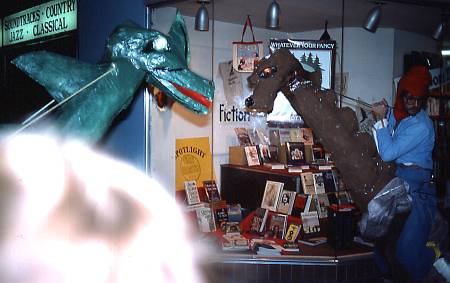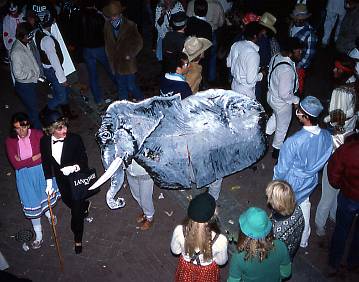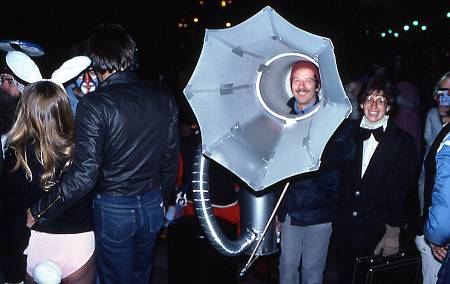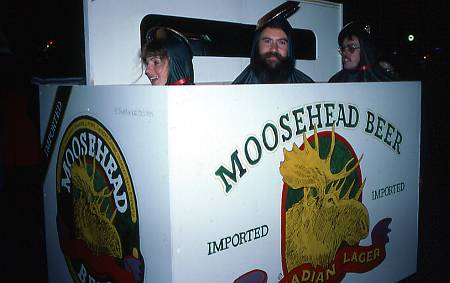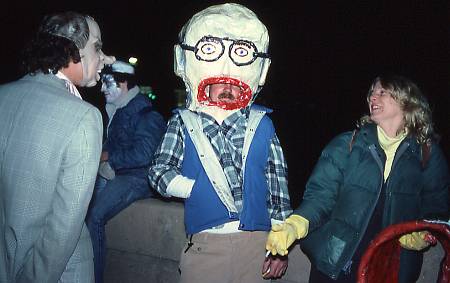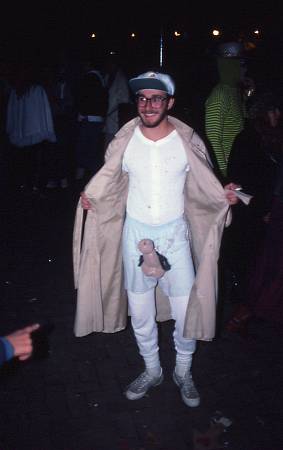 Penii were big this year.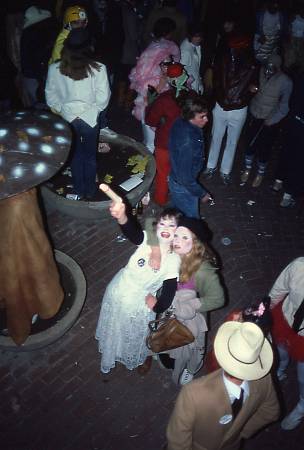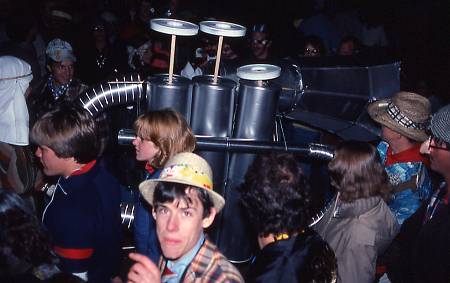 Peter Davidson, of Airjazz.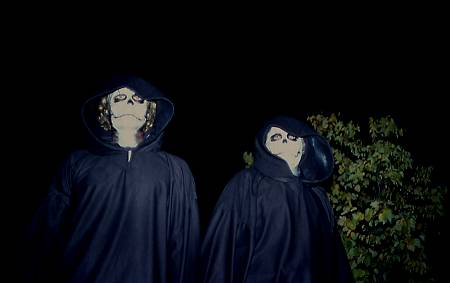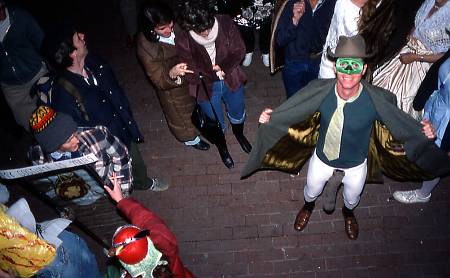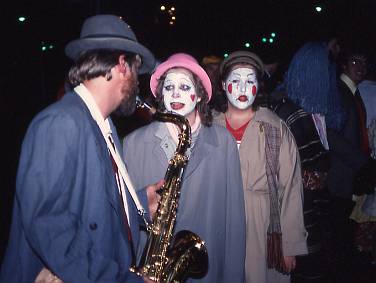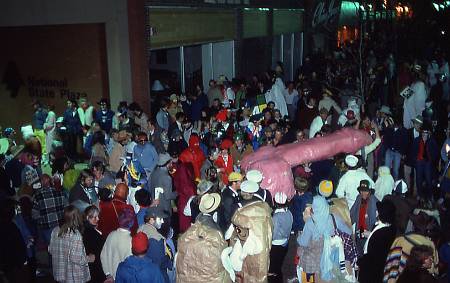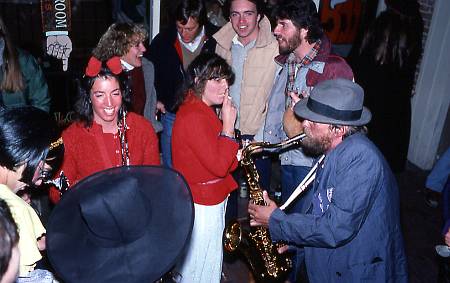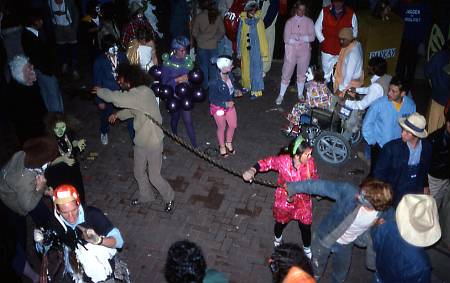 The Pinochio-nosed one is wearing a "Stop Watt" button --as in James Watt, of scandalous fame as head of the Environmental Protection Agency.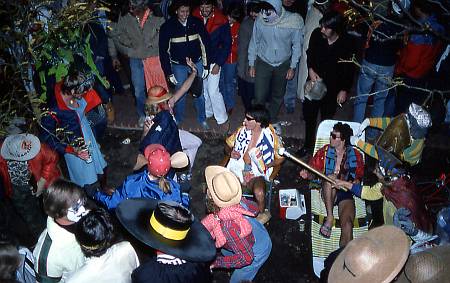 These guys brought beach chairs, suntan oil, towels, a boom box, and a cooler of beer.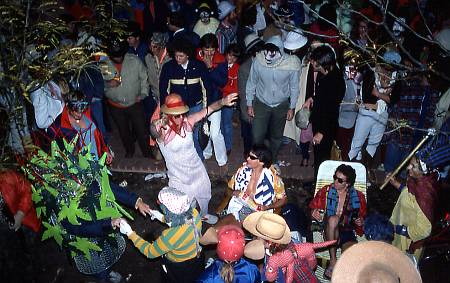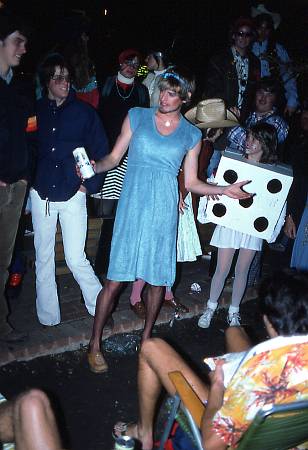 They attracted serious dance fans, including this sweet little transvestite.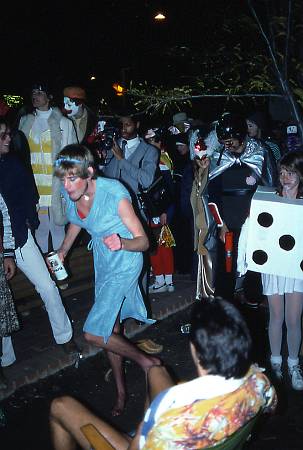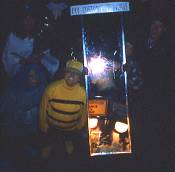 This guy is holding a mirror labeled "My costume is yours." Zen, or passing the buck?
Vote.org: voted #1 for the next President's agenda:
OnDayOne.org/ideas/democracy
Evan Ravitz, founder 303-440-6838 My new Blog!


"Fool's gold exists because there is real gold." -Rumi