Bio of Evan Ravitz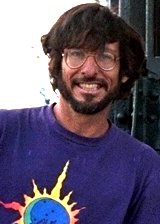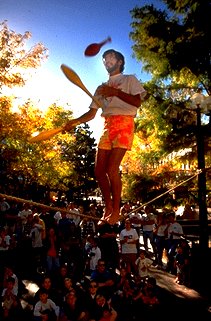 "The impossible takes a little longer."
Phone: (303)923-5918 | E-Mail: evan (at) vote.org
Achievements
Spearheaded the Alternative High School at Croton-Harmon High School, New York, 1969
Computerized the Latin American Division of Xerox in Stamford, Connecticut, 1971
Founding member of the Colorado Springs Artists Co-op, 1973
Taos Office Manager and Researcher, NM Solar Energy Assoc., 1978
Professional not-so-tight-rope artist "Evan from Heaven", 1978-98
Student of yoga master Richard Freeman, 1979-
Rode a mountain bike from Arizona to Guatemala 11/88-2/89, including the first bicycle crossing of a 400-mile track through the Sierra Madre.
Founded the Voting by Phone Foundation, 1989.
Author of column "As the Millennium Turns" for Colorado Daily, 1990-95
Voted "Best Activist" by readers of Boulder Daily Camera, 7/26/92 for promoting Voting by Phone and spearheading the 13th St. Bike Path, built in 1993.
Spearheaded the 1993 Voting by Phone ballot initiative in Boulder. We lost 59-41%
Rafted the Jatate, Lacuntun and Ucimacinta Rivers in Chiapas, Mexico on a log raft, 2/93
Observer of Government-Zapatista negotiations in Chiapas, Mexico, 2/94
A main source for the book Presumed Guilty regarding the murder of neighbor JonBenet Ramsey, 1999
Advisor to fmr. US Senator Mike Gravel on the National Initiative for Democracy 1999-
Backpacked from home in Boulder to Salida, 300 miles on the Continental Divide and Colorado Trails, 2001
Put the best 1000 photos of a 1/3 century of color photography on the web, 2002
Started "The Doctor is IN" help booth on Boulder's Pearl St. Mall, 2003
Began digital photography, 2004
Began Gates of Paradise trips to hot springs and waterfalls in Mexico's Copper Canyon, 2007
Completed Richard Freeman's 200 hour Ashtanga Yoga Teacher Intensive

Employment highlights
Programmer Analyst, Xerox National Sales. Rochester, NY. 1972-3.
Programmer Analyst, UCLA Medical Center. Los Angeles, CA. 1973-4.
Programmer Analyst, IP Sharpe, Ltd, Rochester, NY & Toronto 1975-6
Programmer Analyst, The Architects. Taos NM. 1977 .
Researcher and Office Manager, New Mexico Solar Energy Association. Taos, NM. 1978. Research summary published by High Country News
Performing Artist; Various Locations. 1978-1998
Executive Director, Voting By Phone Foundation (now Vote.org) Boulder, CO, 1989 - Present
Columnist, Colorado Daily, Boulder, CO. 1990 - 1995
Preschool teacher, Homestar, Boulder, 2004-5
Researcher for Jared Polis, 2006
Freelance Editor, 2009

Education
Croton-Harmon High School, Croton-on-Hudson, NY. 1966 -1970.
Colorado College, Colorado Springs, CO. 1971-2.
CU-Boulder, 1980.